Caption Goes Here
ABOUT THE EATERY
Four Great Options
One of the most beloved chefs on TV brings his signature style to Hollywood Casino at Penn National Race Course. The Eatery by Fabio Viviani features four restaurants with everything from great Italian eats and gourmet burgers to sweet and savory desserts and excellent craft and draft beer. A "fan favorite" on the hit show Top Chef, Fabio offers something for every appetite. Stop by today for a one-of-a-kind dining experience.
chef/restaurateur/author
Born in Florence, Italy, Fabio Viviani has had a passion for food since childhood, growing to own several concepts by age 27. In 2005, after successfully selling his businesses in Italy, Viviani brought his talents across the Atlantic, where he opened Café Firenze in Moorpark, CA. Today, he is based in Chicago, IL, with his wife and child and is the owner and founder of Fabio Viviani Hospitality Group which successfully develops and operates 20+ restaurants across the US.
Best known for his participation in Bravo's Top Chef seasons 5 and 8, during which he earned the "Fan Favorite" title, Fabio continues to have recurring appearances on national cooking and talk shows such as Good Morning America and The Rachael Ray Show. He has also authored four successful cookbooks on different subjects, including the New York Times Best-Seller Fabio's Italian Kitchen.
Specials
September 29 - October 1:
Classic: Garlic Bread Meatloaf Sandwich Served with Gravy Fries
Mercato: Italian Grinder
October 6 - October 8:
Classic: Chicken Tender Sandwich
Mercato: Chicken Pesto Pizza
Caption Goes Here
four great options
mercato
Check out our delicious selection of gourmet pizza and other Italian sandwiches.
View menu below.
HOURS:

Monday: Closed
Tuesday Closed
Wednesday: 4PM-11PM
Thursday: 4PM-11PM
Friday: 11AM-2AM
Saturday: 11AM-2AM
Sunday: 11PM- 11PM
Caption Goes Here
for every tastebud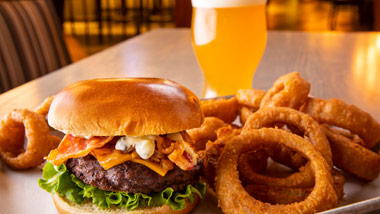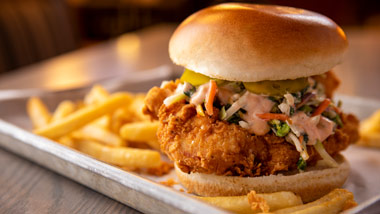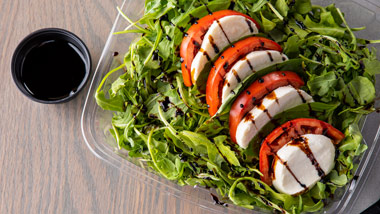 New York Style Pizza
Cheese | $4.29/Slice | $19.99/Pie
mozzarella cheese, house made sauce
Pepperoni | $4.59/Slice | $22.99/Pie
mozzarella cheese, house made sauce, pepperoni
Mercato Meat | $23.99/Pie
mozzarella cheese, bacon, sausage, pepperoni, house made sauce
Veggie Slice | $4.59/Slice | $22.99/Pie
Margherita Slice | $4.59/Slice | $22.99/Pie
Meat Slice | $4.99/Slice | $23.99/Pie
Sandwiches
Meatball Sandwich | $13.99
marinara, provolone cheese, parmesan cheese, amorosa roll
Italian Eats
Lasagna | $11.99
Caesar Salad | $6.99
Chef Salad | $8.99
Deli Sandwiches | $8.99
Entrées
The Original Burger | $9.99
American cheese, lettuce, tomato, red onion, brioche bun
Chili Burger | $12.99
Chili, American Cheese, lettuce, tomato, red onion, brioche bun
Mushroom Burger | $11.99
American cheese, mushrooms, onion, pickle top, brioche bun
Fried Chicken Tenders | $9.99
choice of bbq sauce, ranch or honey mustard
additional sauces are 50¢ each
Philly Steak and Cheese | $11.99
chipped beef, American or provolone cheese, onion and peppers, amorosa roll
Crispy Flounder Sandwich | $11.99
crispy flounder, American cheese, tartar sauce, brioche bun
Can substitute any burger for vegetarian option.
Add an extra burger for $4.99
Hot Dogs
All Beef Hot Dogs | $3.99
French Fries
French Fries | $3.99
Add chili to fries or hot dogs: $0.79
Coffee
Brewed | 16oz $3.29 | 20oz $4.09
Cappuccino | 16oz $4.59 | 20oz $4.99
Latte | 16oz $3.99 | 20oz $4.99
Americano | 16oz $3.99 | 20oz $4.99
Espresso Single Shot | $2.99
Espresso Double Shot | $3.99
Hot Tea | $2.99
Eats
Breakfast Sandwiches | $2.69
Hot Dog | $3.99
Kettle Chips | $2.69
Caesar Salad | $6.99
Chef Salad | $8.99
Deli Sandwiches | $8.99
Parfait | $2.99
Pretzel Braid | $3.99
choice of mustard or cheese
Nacho Chips with Cheese | $4.99
Sweets
Pastries
Danish | $2.99
Loaded Brownie | $3.29
Pound Cake Slice | $2.99
Muffins | $2.99
Cinnamon Crumb Cake | $3.29
Cookies | $2.99
Cheesecake | $2.99
Rice Crispy Treat | $3.29
Candy | $2.49
Soft Serve Ice Cream
Chocolate, Vanilla, Twist
Regular | $2.79
Large | $3.79
Beverages
Bottled Tea | $3.59
Bottled Beverages | $3.29